Accessibility tools
DC analytics can improve members' retirement outcomes
DC analytics can improve members' retirement outcomes
30 Nov 2021
At a glance
There is increasing acknowledgement that the information held by employers may not be sufficient to design DC arrangements that align with the needs of their employees
Employers are looking for ways to improve retirement outcomes for employees where there is often limited scope for them to increase their own contributions
In addition the higher expenses associated with running schemes with a wide range of options are not always matched with higher levels of employee engagement or appreciation
An analytical data-driven approach can help employers design more tailored DC arrangements by analysing employee characteristics and better understanding their behaviours and needs
Analytics can also help determine the best way to engage and communicate with employees to maximise participation
This helps employers spend their pensions budget efficiently by offering employees what they need, improving their retirement provision
---
Key areas covered
DC analytics can provide insight in the following areas:
---
How to improve outcomes
Knowing your members helps improve outcomes by offering a structure that maximises member engagement.
---
Actions employers can take
Assess the costs and benefits of your current DC arrangement.
Evaluate the needs of your members by considering key metrics such as employee contribution levels and the use of the wider fund offering.
Use data analytics to understand the appropriate DC scheme structure for your specific members.
Determine the best engagement strategy to maximise participation and improve member outcomes.
---
Our approach – DC Analytics
DC analytics helps identify employee characteristics to enable employers to understand behaviours and needs in order to design or refine their DC scheme to improve member outcomes.
---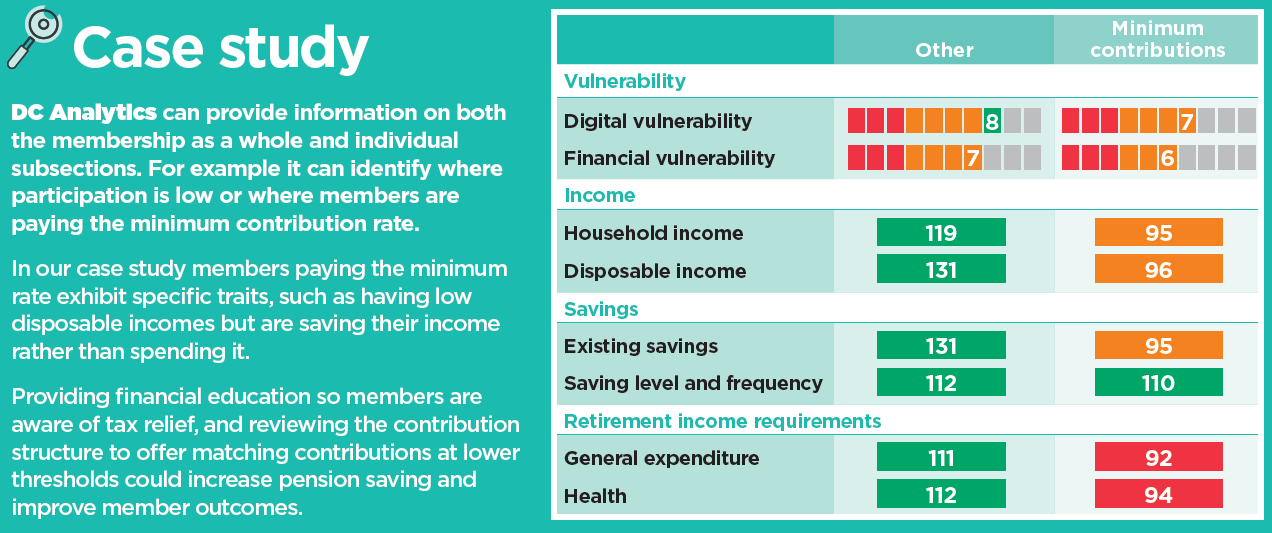 For further information, please get in touch with Jim Heal or Beth Udy or speak to your usual XPS Pensions contact.