Accessibility tools
Individual investors show the might of their collective stock buying power
Individual investors show the might of their collective stock buying power
04 Feb 2021
XPS Investment News - February 2021
Bringing you our market round-up and the latest news affecting UK pension scheme investments.
Month In brief
Equity markets retreat from mid-month historic highs to finish the month with a small negative return
Investors largely shrug off the US Capitol riot and focus on Biden's proposed fiscal stimulus package
Vaccine progress drives improved 2021 global economic growth forecast but EU rollout suffers set backs
A 'flash mob' of retail investors joined forces to substantially increase the price of some heavily shorted stocks, imposing losses on some hedge funds.
Equity markets globally saw a small negative return over the month. Although some major equity indices hit record highs around the mid-point of the period, returns pulled back over the last week. Equity volatility remained materially elevated.
For much of the month, equity returns were driven by positive sentiment associated with the widespread vaccine rollout, optimism around Joe Biden's plan for further fiscal stimulus and continued accommodative monetary policy. Earnings reports released over the last week were also relatively strong, especially for Big Tech. However, this optimism tailed off towards the end of the month, particularly in Europe, with the prospect of slower-than expected vaccine roll out. This heightened political tensions with the UK, after the EU threatened to impose export controls on vaccines into Northern Ireland less than a month into their new trading relationship.
Amongst this wider landscape, the last few days of the month saw some extraordinary equity price rises for certain individual stocks. This significantly hit certain hedge funds' returns. As an example, the stock that gathered the most attention, GameStop, a US retailer, saw its price increase by over 1600% in January. These price moves were attributed to an intensifying battle between retail investors, brokers and the hedge fund community, as many retail investors focussed their efforts to actively buy some of the most heavily shorted stocks. The precious metal Silver was next on the list. Find out more on the implications for pension schemes here.
Emerging market equities were the strongest performer over the month
One month to 31 January 2021
Joe Biden was sworn in as 46th US President and a confirmed 50-50 split in the Senate means that vice president, Kamala Harris, has the tie-breaking vote, granting Democratic Party control. Investors largely shrugged off the US Capitol riot and instead focussed on Biden's proposed $1.9tn economic relief package.
US GDP over Q4 2020 was positive at 1%, and the French, Spanish and German economies held up better than forecast. The International Monetary Fund has upgraded its forecast for global economic growth in 2021 to 5.5%, on hopes of a vaccine-driven pick-up in activity later this year.
UK government bond yields rose moderately, leading to a welcome reduction in liability values, albeit well within its normal trading range.
The funding level of a typical pension scheme would have marginally increased over the month, as a result of a proportionately larger fall in liability values than asset values.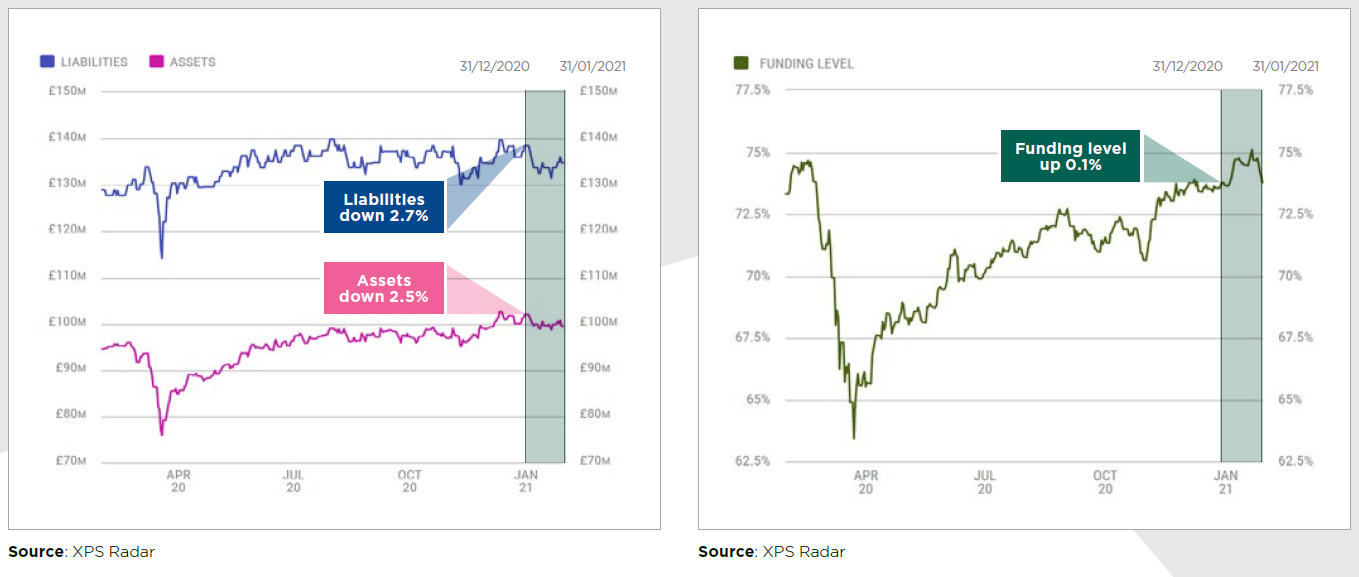 To discuss any of the issues covered in this edition, please get in touch with Clarissa Evans-Lutterodt, Simeon Willis or your usual XPS contact.