Accessibility tools
The Pensions Regulator consults on new single code of practice
The Pensions Regulator consults on new single code of practice
05 May 2021
What you need to know
The Pensions Regulator (TPR) has issued a consultation on a new single code of practice that brings together 10 of the 15 current codes into 51 new modules. The new code aims to be clearer and more accessible, providing a single up to date source on pension scheme governance and management.
The new code incorporates some potentially significant additional governance requirements. These are not a surprise as they were largely transposed from the second European Pensions Directive (IORP II) into The Occupational Pension Schemes (Governance) (Amendment) Regulations 2018 (the 2018 Governance Regulations) which came into force in January 2019. The new code sets out the detail of how schemes should comply.
In particular, the 2018 Governance Regulations set out that schemes must establish and operate an 'effective system of governance including internal controls'. The new code sets out TPR's expectations of the processes and procedures which trustees should have in place to form an effective system of governance.
Schemes with more than 100 members will need to carry out an 'own risk assessment' (ORA) to assess how well governance systems are working and how potential risks are managed. TPR acknowledges that the first of these assessments is likely to involve a substantial amount of work and is to be carried out within a year of the code coming into force (likely this autumn).
Actions you can take
Carry out a review of the requirements of the new code and the consultation and consider whether you wish to respond by the deadline of 26 May 2021. XPS will be issuing a response.
Review existing governance policies and processes to identify if there are any gaps.
Assess your trustee board's effectiveness to establish where additional governance processes are required.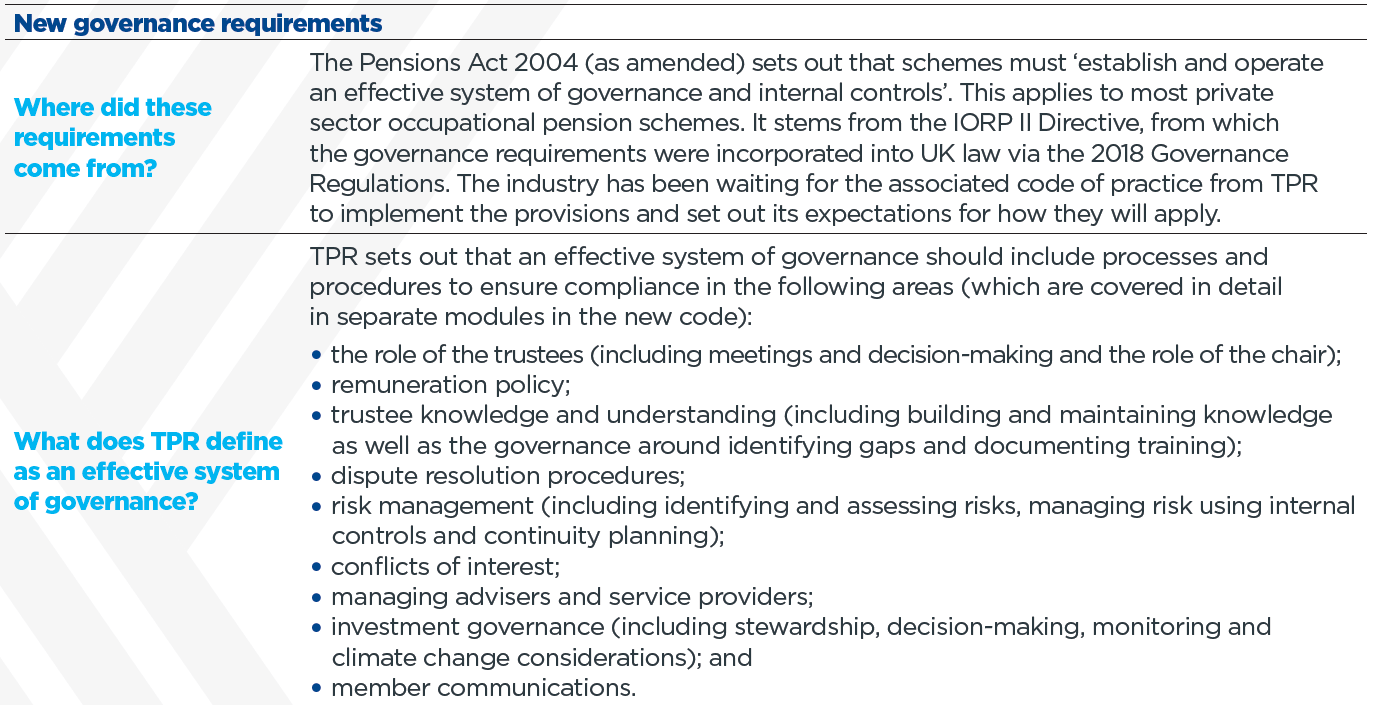 For further information, please get in touch with Rob Wallace or Jill Brown or speak to your usual XPS contact.