Accessibility tools
TPR issues further guidance for trustees on climate change requirements
TPR issues further guidance for trustees on climate change requirements
01 Apr 2022

What you need to know
Last year saw the introduction of new climate-related governance and reporting requirements for certain schemes, including larger occupational pension schemes.
The Department for Work and Pensions (DWP) published statutory guidance which trustees must have regard to when complying with the new requirements. The Pensions Regulator (TPR) has published complementary guidance which sets out what trustees need to do and report on in their annual climate change report (known as a TCFD report).
In February 2022, TPR published an illustrative example showing how trustees of a fictitious scheme might approach meeting the new requirements. Although the case study is detailed, TPR emphasises that it is not intended to be used as a checklist by trustees.
The guidance shows how much trustees (of schemes in scope) will have to do in order to comply with the new duties. It also indicates how climate-related risks and opportunities need to be central to the thinking of these trustees in many areas going forward, including investment, governance and risk management.
Actions you can take
Trustees of schemes in scope: Review the case study and plan out the work involved in complying with the new requirements.
Trustees of schemes not in scope: Consider carrying out training on climate-related risks and opportunities, and determine to what extent voluntary compliance with the new governance requirements would be beneficial.
---
The finer detail: overview of steps taken by trustees in TPR's illustrative case study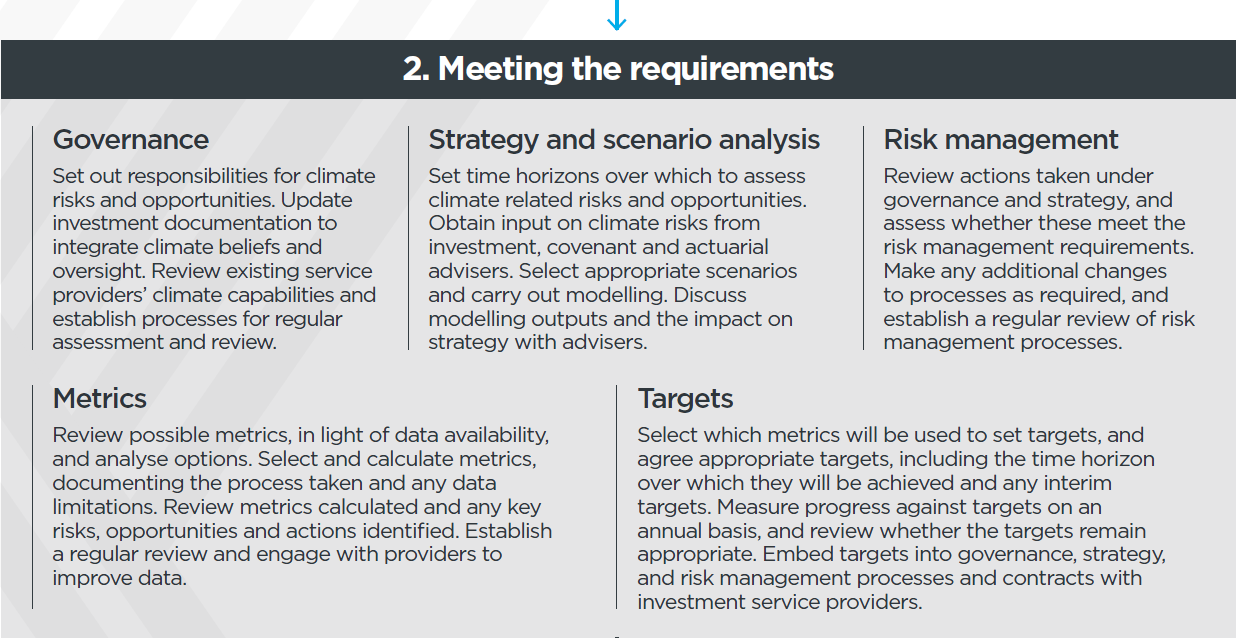 ---
For further information, please get in touch with Sarah Keighley or William Fitchew or speak to your usual XPS contact.