Accessibility tools
Further rise in gilt yields reduces long-term pension scheme deficits by £33bn
Further rise in gilt yields reduces long-term pension scheme deficits by £33bn
04 May 2022
UK pension scheme deficits against long-term funding targets fell by £33bn over the month to April 20221, driven by rising gilt yields and a fall in long term inflation expectations
DB:UK estimates that it will currently take 9.5 years2 to reach long-term targets under the proposed new funding code rules
Deficits of UK pension schemes have decreased by c.£33bn over the month to 27 April 2022 against long-term funding targets, an analysis from XPS Pensions Group's DB:UK funding tracker has revealed. The change was primarily driven by a further rise in gilt yields as well as a fall in long term inflation expectations.
Based on assets of £1,946bn and liabilities of £1,705bn, the average funding level of UK pension schemes on a long-term target basis was 87.6% as of 27 April 2022. XPS estimates that at the end of April 20221 the average pension scheme would need an additional £24,000 per member to ensure it can pay their pensions into the long-term.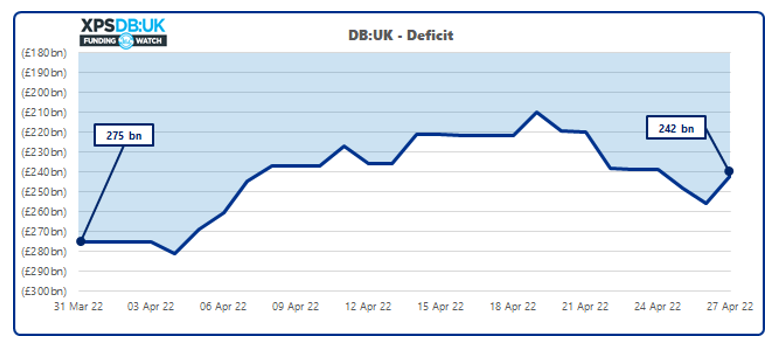 Drivers of the change
The improvement in funding levels over March was largely due to a further rise in gilt yields over the month reducing liabilities. Despite ongoing concerns about short term inflation and the rising cost of living, long-term inflation expectations fell over the month helping to reduce deficits further.
Tom Birkin, Actuary at XPS Pensions Group said:
With the Bank of England widely expected to increase interest rates for a fourth time this week to combat surging inflation, the yield on long-term gilts reached over 2% in late April for the first time since 20153. This is good news for pension schemes who will have seen their liabilities decrease as a result, but comes at a time where pensioners are battling against the rising cost of living. Trustees will have to weigh up any potential opportunities to de-risk and lock in some these gains against the option of providing additional increases to member pensions.
Notes:
figures are up to 27 April 2022, due to a delay in the update of internal systems
including allowance for the combination of investment returns and current cash contributions
as measured by the UK 10-Year Gilt Yield
XPS Pensions Group's DB:UK Funding Watch monitors the combined deficit and funding level of UK defined benefit (DB) pension schemes (i.e. all registrable schemes - including hybrids) on a long-term target basis using a discount rate of Gilts + 0.5%. It combines XPS's market leading Member Analytics and the award-winning journey planning tool, Radar, enabling real time monitoring of changes and analysis of the reasons behind any movement.
An online version of DB:UK is available here: XPS DB:UK Tracker