Accessibility tools
UK pension schemes could take over a decade to reach full funding under new rules
UK pension schemes could take over a decade to reach full funding under new rules
06 Sep 2021
XPS's newly launched DB:UK Funding Watch tracker reveals that scheme deficits against long-term funding targets fell by £40bn over the year to 31 August 2021.
Despite this improvement it will still require 12 years to reach long-term targets under the proposed new rules from The Pensions Regulator (including allowance for the combination of investment returns and current cash contributions).
However, if current levels of cash contributions are maintained then full funding could be reached in 7 years but the estimated cost to employers will be c. £80bn.
Employers and trustees may also reconsider investment strategies, contingent support and member option exercises as an alternative to cash to mitigate the impact.
Deficits of UK pension schemes have reduced by around £40bn over the year to 31 August 2021 against long-term funding targets, an analysis from XPS's inaugural DB:UK funding tracker has revealed. Based on assets of £1,915bn and liabilities of £2,230bn, the average funding level of UK pension schemes on a long-term target basis was 86% as of 31 August 2021.
DB:UK tracks the funding position of UK defined benefit (DB) pension schemes on a long-term target basis and allows real time monitoring of changes and analysis of the reasons behind any movement.
Drivers of the trend
Yields on gilts have risen by 0.2% over the last year, meaning that the value placed on pension scheme liabilities has fallen. Schemes that have hedged their assets to protect against falling gilt yields would have been protected from the market turmoil at the height of the pandemic but they may not be seeing improvements in funding levels since then.
Felix Currell, Senior Investment Consultant, said:
"Pension schemes have continued to benefit from strong equity markets, which have generally managed to shrug off concerns over new Covid variants. With the Organisation of Economic Co-operation and Development (OECD) revising up its economic growth forecast for 20211 that optimism is set to continue. However, concerns remain over the prospect of increasing inflation, a tighter labour market and increasing input costs, which has led to XPS reducing our central investment return expectations. So pension schemes will be relying on the health of the wider economy to reduce the time taken to reach their targets."
Reaching Targets
After allowing for the combination of investment returns and current cash contributions agreed with employers (which typically run to 2024/25) it will take schemes c.12 years to reach their long-term targets. This is slightly ahead of the timeframe by which cashflows peak and schemes are estimated to be 'significantly mature', a measure that The Pensions Regulator has indicated it will use as part of its proposed changes to the scheme funding regime.
However, if employers were to maintain paying contributions at the current levels this term is reduced by 5 years – but not without a cost. XPS estimates the cost of these additional contributions at c.£80bn.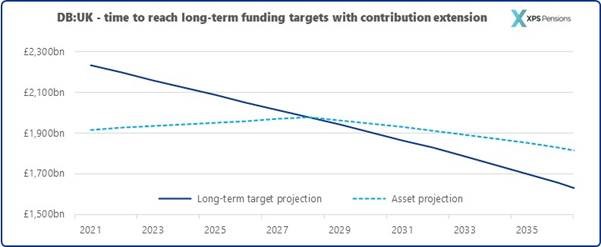 Charlotte Jones, Senior Consultant, said:
"The Pensions Regulator encourages schemes to set a long-term funding target. This is seen to be good practice and will help schemes prepare to comply with the requirements of the Pension Schemes Act 20212. Schemes will need to work with their sponsors over the coming months to agree an appropriate target and how they plan to achieve it, whilst working collaboratively to balance the targeted level of investment returns versus any increase in cash funding. As an alternative, we may see employers and trustees reconsider investment strategies, contingent support and member option exercises as an alternative to cash to mitigate the impact."